Here is our small local market in Show Low, Arizona, at Sunshine Herbs on Huning Street (Wednesdays from 9 am to 1 pm).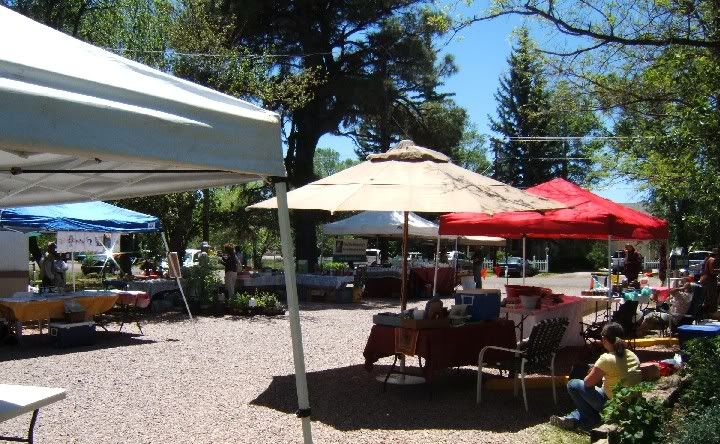 Our site is the white canopy in the foreground — you can see the solar ovens set up in front of the canopy on the gravel.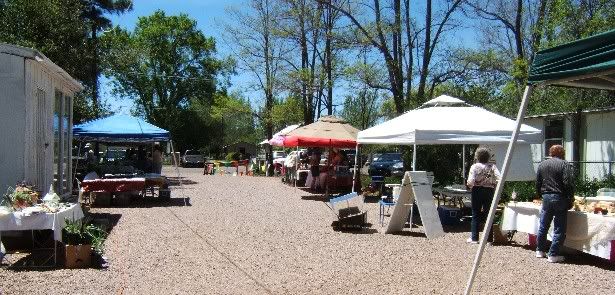 People will stop and talk with us about solar cooking, and we hear many stories about people learning to make their own solar cookers — and we hope that this exposure will inspire many more such efforts.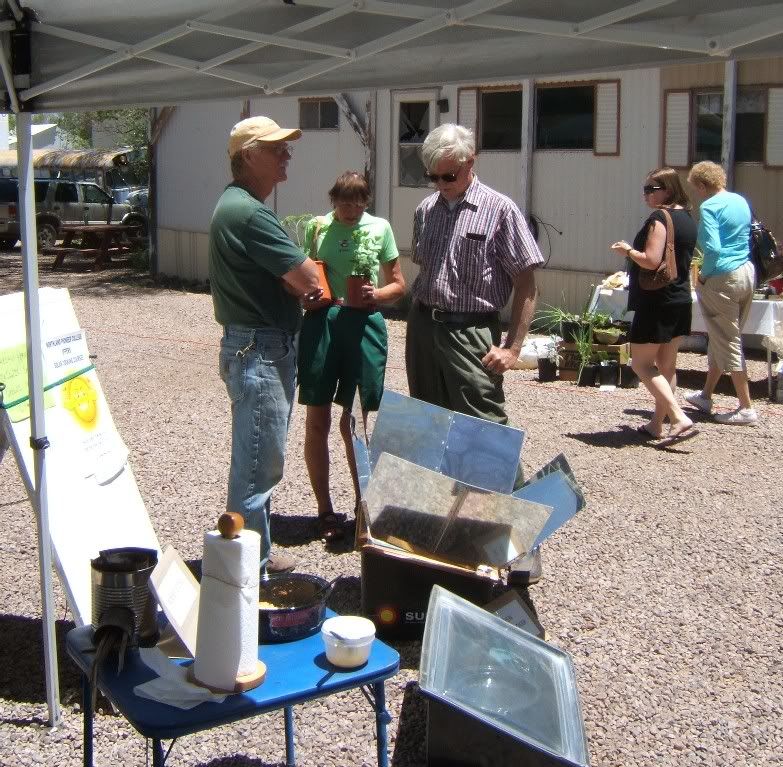 In these photos you can see a Sun Oven (with the reflectors); a Sport Cooker designed by solar cooking and sustainability pioneer Barbara Prosser Kerr, who lives in the nearby town of Taylor and is a local treasure, and a rocket stove. More about these items below.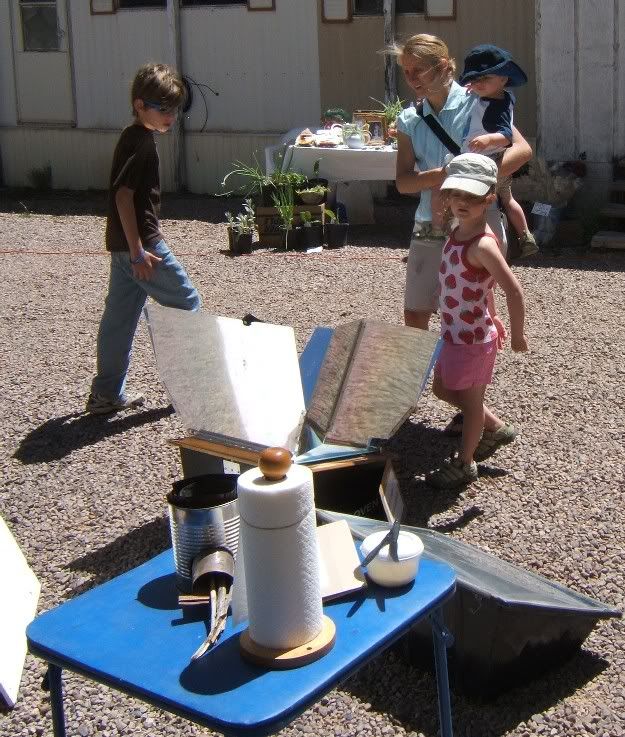 Sun Oven
Reflectors can make a big difference in the internal heat of a solar oven. Without reflectors, a solar box cooker will boil water after an hour or so, and reach a temperature of around 225 degrees farenheit — with the reflectors, the Sun Oven reaches up to 350 degrees. We demonstrate the Sun Oven with a big biscuit cooked in an enamel pot — it even browns.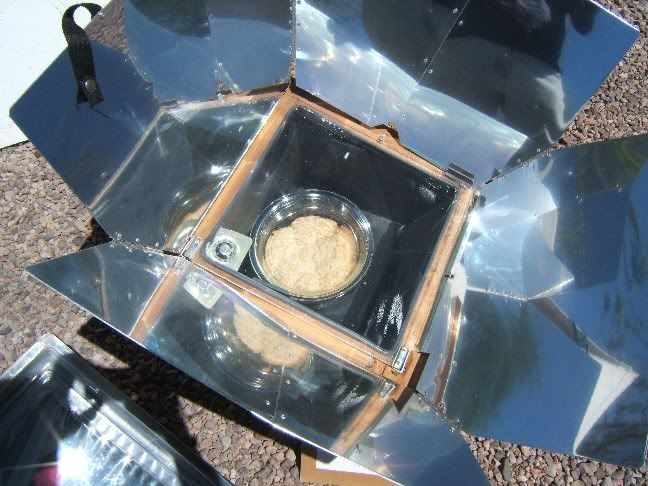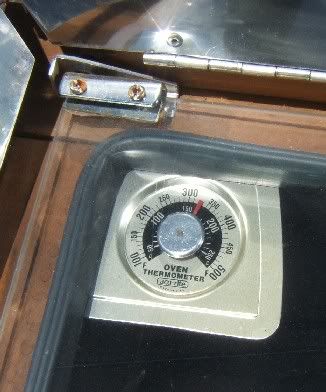 Sport Solar Cooker
The Sport is the plain black box with plastic cover in the photo below. The water in the enamel pot is boiling. You can see more of it here. The link is a sales brochure — but please know that the author of this diary does not benefit from any sales. The Kerr-Cole Sustainable Living Center is an educational non-profit (501(c)(3)).
Also in the photo is the biscuit we cooked in the Sun Oven, and an extremely fuel-efficient wood stove called a rocket stove.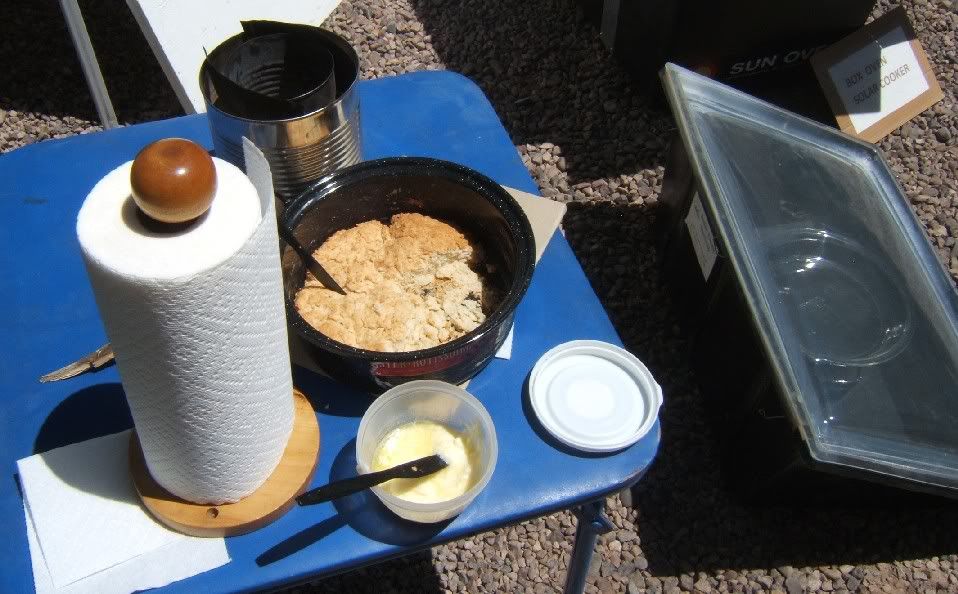 Rocket Stove
While not a solar technology, the rocket stove burns small pieces of wood (twigs or kindling). The design allows cooking using a very small area of flame — basically you are just burning the ends of a few sticks. This model is one we build in the Solar Cooking and Sustainability Course offered through the local community college, Northland Pioneer.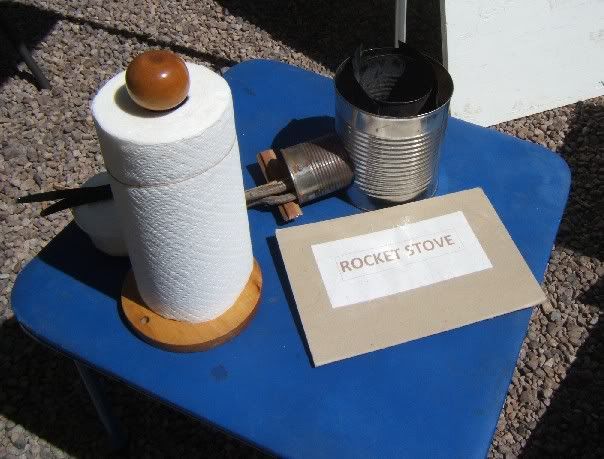 The metal divider that the sticks rest on provides a platform for the fuel as well as an air channel that flows under the fuel and allows for very strong combustion of the stick ends.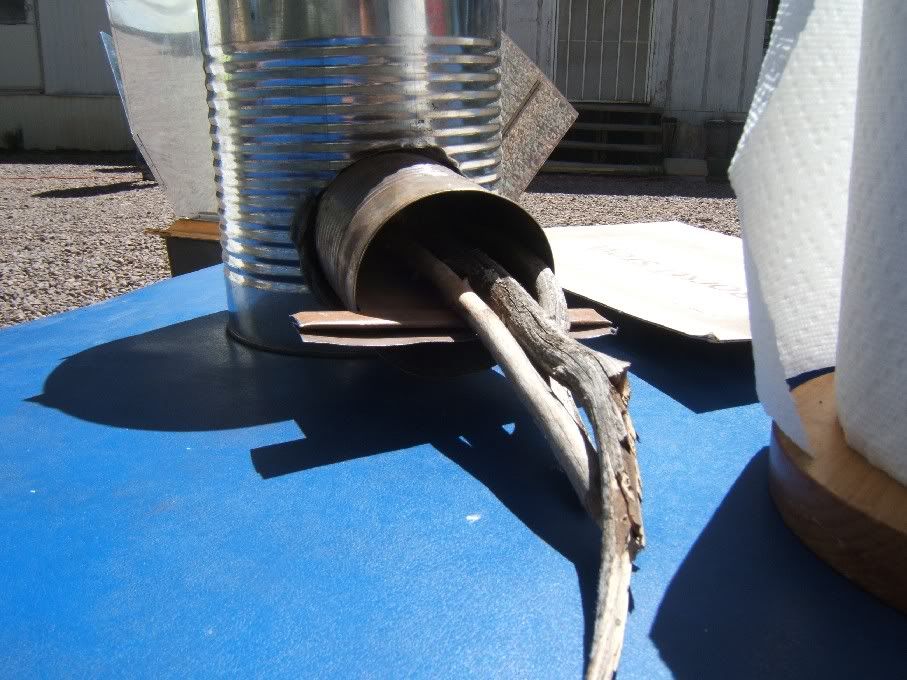 This stove allows for cooking using a minimum of fuel — not as ideal as solar, but still very effective and helpful in places with deforestation problems. Even in heavily forested regions, using less fuel is the right thing to do from a carbon and fire-safety perspective.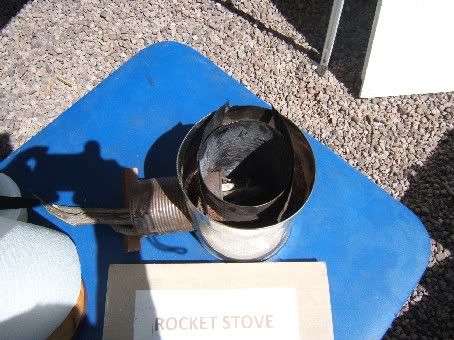 Thanks very much to gmoke for suggesting this post. Have a nice sunny Sunday — here in the White Mountains of Arizona, it is inevitable!
Tags: Farmers Market, Solar Cooking